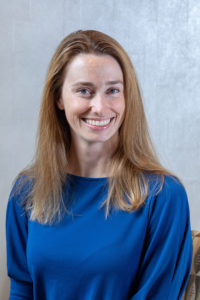 Jessica (Hacker) Hutchins DDS
"I get real joy from providing comfortable, easy dental care that patients are proud to show off. There's nothing better than knowing that I've improved the quality of someone's life, whether it's from the procedure itself or the fears that became a little bit smaller in the process.
I view myself as an advocate for the patient's health, not as some sort of Dentistry Dictator. My job is to give patients as many options as possible, explain the differences, and help them make decisions that fit their lives.
There are many reasons why Essex Family Dental is so great for so many folks – we fit into people's lives, and the whole family is comfortable here. The team's laughter is contagious, and it really makes this a fun place to be."- Dr. (Hacker) Hutchins.
Education and Continuing Education
After graduating from Reed College in Portland, Oregon, Dr. (Hacker) Hutchins performed biochemical research for Shriners Hospitals for
Children while completing an additional bachelor's degree at Portland State University. She parlayed her expertise into dental
research projects at both Oregon Health Sciences University School of Dentistry and the University of Minnesota School of Dentistry. Dr. (Hacker) Hutchins completed her dental degree at University of Minnesota School of Dentistry. She was honored with an award for her technical skill in general dentistry by the faculty at UMN as well as an award in implant dentistry from the American Association of Oral and Maxillofacial Surgeons.
Dr. (Hacker) Hutchins is a big believer in life-long learning; she attends continuing education courses every year to hone her skills and update
her techniques with the latest research. She is also trained in Invisalign.
Professional Affiliations
Outside the Office
Dr. Jessica (Hacker) Hutchins originally hails from Springfield, Missouri, but has put down roots in Vermont and can usually be found curled up
with a good book or running very slowly along trails around the area. Recently, she has also picked up swimming slowly and biking
slowly. She hopes to win her age group in triathlon when she is 80, unless of course there is another 80 year old female competing.
To schedule a consultation or your next dental appointment with our dentist Dr. (Hacker) Hutchins, contact our Essex Junction dental office or request an appointment online. We also welcome patients from Burlington, Colchester, Milton, Winooski and Williston.
The professionals at Essex Family Dental are among the most skilled dental care teams in Vermont. Dr. J. Allen Feeley, Dr. Nathan Makay, Dr. Michael Gibilisco, & Dr. Jessica (Hacker) Hutchins apply their expertise and consult with one another for the benefit of the people they treat.
Your ease at our practice is very important to us, whether that means a comfortable waiting room, painless treatment, or feeling informed about your care. Our doctors are happy to educate you about your treatment options and our staff is always gentle.                
Essex Family Dental keeps the most convenient hours, offering appointments until 7pm Monday-Thursday, including morning and afternoon appointments on Friday and Saturday. We also schedule same-day treatment for patients with emergency needs.